Swimming pool support roll formed by Samson
Trial and error is not the ideal method for building structures like built-in swimming pools. One manufacturer discovered this and then turned to Samson custom roll forming for the most effective means to keep its customers in the swim. What's more, the company achieved a 50% savings on the superior supports.
The elements of a pool
The pool design in question consists of three main elements: a steel reinforced concrete floor, a concrete footing at the intersection of the floor and the sidewall, and the fiberglass sidewall. When a pool is being built, the sidewall panels are installed with structural supports laminated to the outside at 17″ intervals. The supports extend beyond the bottoms of the panels so they can be secured into the footing. Additionally, rods are inserted into the structural supports, then bent back and driven into the unexcavated ground. The objective: to keep the panels perpendicular while the pool walls are back-filled.
Since a typical pool is filled with approximately 23,000 gallons of water, the strength and rigidity of the walls must be at high levels.
The problems of non-support
Initially, the pool manufacturer tried a structural support that was the result of tack welding a 1/2″ conduit to a piece of 0.036″ cold-rolled steel brake formed to a 90° angle. The pieces were expensive and inefficient. The conduit had a tendency to pull away from the angle during the back-filling.
Next, the company tried a redesign. There were two halves staked together to form a single structural support. Not only were these supports likely to spread apart under pressure, but even getting them ready for installation was a problem. Often, halves had to be reworked so they'd be straight enough to mate. 5% were rejects due to looseness or breakage.
Samson's support solution
After this trial and error approach, Samson engineers were called in. They developed a productive – and economical – solution. It's a one piece, custom roll formed wall support.
The material used is 0.028″ hot dipped galvanized steel. Samson engineers, after studying the structural requirements of the component, designed ribs into the piece. The ribs provide an extra measure of strength, which permits the use of this lighter gauge material.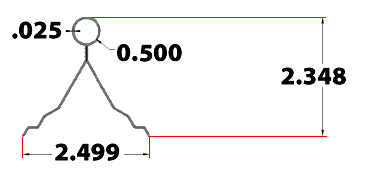 Operations performed in the continuous roll forming process for the swimming pool support include pre-notching, forming, and cutting to length. Overall, the Samson roll forming provides a 50% savings to the builder, as compared to the previously used techniques. Download our shape catalog page: Swimming Pool Hardware. If you think your company might benefit from Samson's engineering and cost saving innovations, simply click here to have one of our highly trained sales reps show you how to improve your product and reduce your costs.